When it comes to designing or remodeling a bathroom, one of the most critical decisions you will make is choosing the right flooring. Bathroom flooring has to be able to withstand moisture, humidity, and spills while also being comfortable and visually appealing.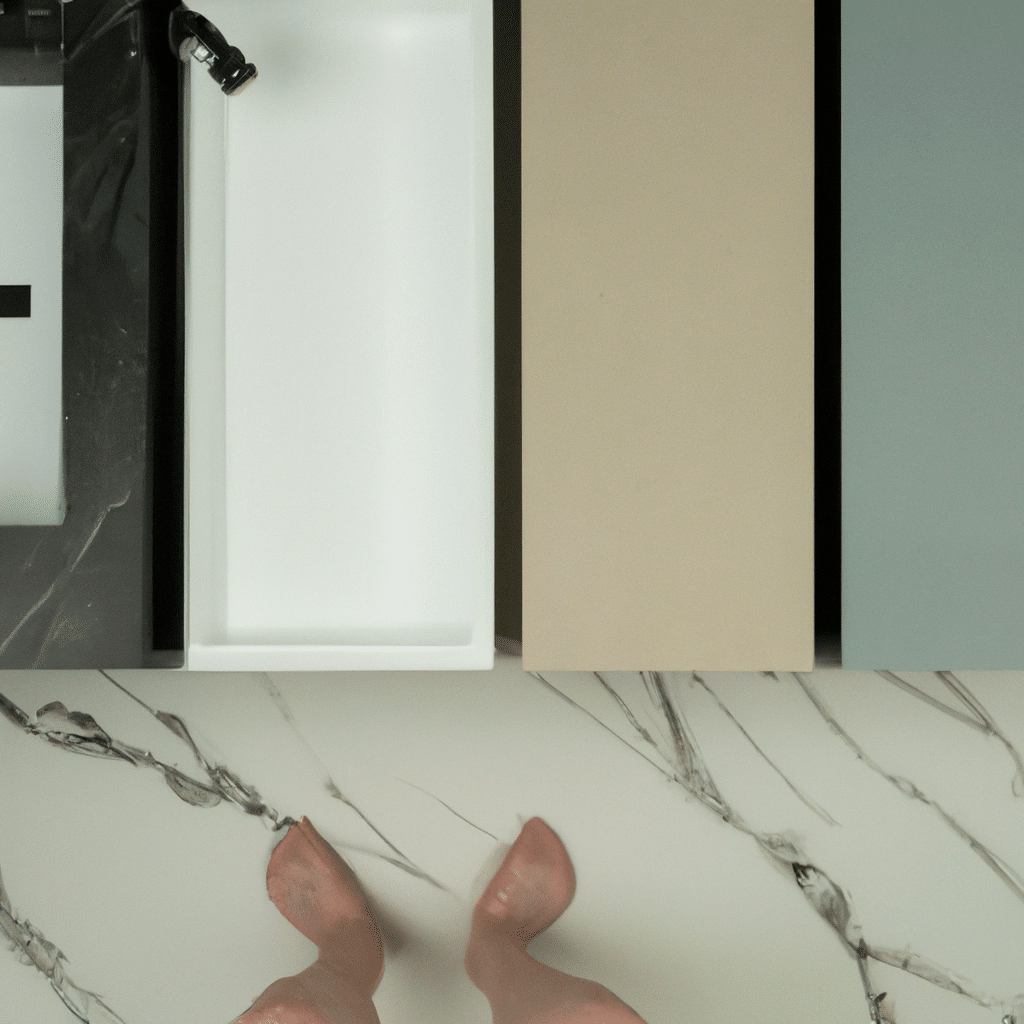 In this article, we will guide you through the process of selecting the perfect bathroom flooring. We will discuss the different types of bathroom flooring options, their pros and cons, and what to look for when choosing the best flooring for your bathroom.
Types of Bathroom Flooring
There are several types of bathroom flooring options to choose from, each with its own unique advantages and disadvantages. Here is an overview of the most popular bathroom flooring options:
Ceramic Tile
Ceramic tile is a popular choice for bathroom flooring because it is durable, waterproof, and easy to clean. It comes in a wide variety of colors, patterns, and textures, making it easy to find a style that matches your bathroom decor. However, ceramic tile can be cold and slippery, making it less comfortable to stand on for long periods.
Vinyl Flooring
Vinyl flooring is one of the most affordable bathroom flooring options. It is also waterproof, easy to clean, and available in a variety of styles and patterns. Vinyl flooring can be comfortable to stand on and can mimic the look of other flooring types like hardwood or tile. However, it may not be as durable as other options and can be prone to scratches and dents.
Natural Stone
Natural stone like marble, granite, and slate can add a touch of elegance to your bathroom. It is durable and water-resistant, making it an excellent option for humid environments. However, natural stone can be expensive and requires regular sealing to prevent staining and damage.
Engineered Wood
Engineered wood flooring is a popular option for those who want the look of hardwood floors without the risk of moisture damage. It is made from layers of real wood and a protective top layer that resists moisture and scratches. Engineered wood flooring is comfortable to stand on and comes in a variety of colors and styles. However, it can be more expensive than other options and may not be as durable as solid hardwood.
Factors to Consider When Choosing Bathroom Flooring
When choosing bathroom flooring, there are several factors to consider beyond just the type of flooring. Here are some things to keep in mind:
Durability
Bathrooms are high-traffic areas that are exposed to moisture and humidity. It's essential to choose a flooring option that can withstand these conditions and last for years without showing signs of wear and tear.
Slip Resistance
Bathrooms can be slippery, especially when wet. Look for flooring options that have a slip-resistant surface to reduce the risk of falls and injuries.
Comfort
Bathrooms are often used barefoot, so it's essential to choose a flooring option that is comfortable to stand on for long periods.
Style
The flooring you choose should match your bathroom's overall style and decor. Consider the color, pattern, and texture of the flooring and how it will complement your bathroom's other design elements.
Conclusion
Choosing the right bathroom flooring is an important decision that can impact the comfort, durability, and overall look of your bathroom. By considering factors like durability, slip resistance, comfort, and style, you can select a flooring option that meets your needs and enhances your bathroom's design.
In conclusion, there is no one-size-fits-all solution when it comes to bathroom flooring. Each flooring type has its own unique advantages and disadvantages, and the right option for you will depend on your personal preferences, budget, and lifestyle. By using this guide, you can make an informed decision and choose the perfect bathroom flooring for your home.