Ensuring that all people have access to safe and functional bathroom facilities, regardless of their abilities, is a crucial aspect of inclusive design. This is particularly important for those who use wheelchairs, as they face unique challenges in accessing and using standard bathrooms. This article will discuss the top considerations for designing an accessible bathroom for wheelchair users.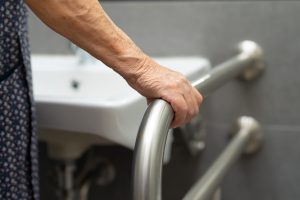 Flooring
When it comes to flooring in an accessible bathroom, it is essential to choose a slip-resistant material that is easy to clean. Non-slip flooring options, such as ceramic tiles or epoxy coatings, can reduce the risk of falls and provide a stable surface for wheelchairs to roll on. In addition, flooring should be flat and level to ensure wheelchairs can move quickly throughout the bathroom.
Toilet Location
The location of the toilet is a crucial consideration in designing an accessible bathroom. Toilets should be positioned to be easily accessible from a wheelchair, with ample space for manoeuvring. A clear floor space of at least 900mm by 900mm should be provided around the toilet to allow for easy transfer from a wheelchair. In addition, grab bars should be installed on the walls near the bathroom for added support and stability.
Sink Height
The height of the sink is another crucial aspect of accessible bathroom design. Sinks should be positioned at a height easily accessible from a wheelchair, typically around 850mm to 900mm. This will allow users to wash their hands and brush their teeth without transferring from their wheelchairs. In addition, the sink should have enough clearance beneath it to accommodate a wheelchair user's knees.
Shower and Bathtub
Showers and bathtubs can present a significant challenge for wheelchair users, as they often require getting in and out of the tub. To make these areas more accessible, consider installing a roll-in shower or a bathtub with a door that can be easily opened and closed. In addition, grab bars should be installed in the shower and bathtub to provide added stability and support.
Lighting
Adequate lighting is crucial for safe and functional bathroom use, especially for those with visual impairments. A combination of overhead and task lighting, such as wall sconces, can provide ample illumination for all bathroom areas. In addition, consider installing a night light to help guide users to the bathroom at night.
In conclusion, designing an accessible bathroom for wheelchair users requires careful consideration of various factors, including flooring, toilet location, sink height, shower and bathtub accessibility, and lighting. By considering these factors, you can create a safe, functional, and inclusive bathroom for all users.